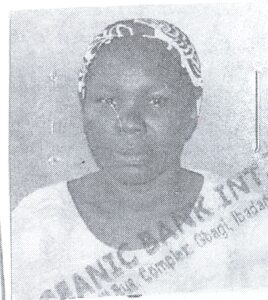 The person whose picture appears above, Mrs. NIKE OLATEJU FABELURIN, is hereby declared WANTED by the Independent Corrupt Practices and Other Related Offences Commission (ICPC) for jumping administrative bail.
Mrs. Fabelurin, an indigene of Oyo State, was born on 21st February 1963 (53 years old) and is dark in complexion.
Her last known address was E9/884 Loyola Area, Ibadan, Oyo State.
Anyone who has useful information on her whereabouts should report to ICPC Headquarters Abuja, any of the ICPC State Offices or the nearest police station, or call ICPC Toll-Free lines: 0803-123-0280, 0803-123-0281, 0803-123-0282, 0705-699-0190, 0705-699-0191 and 0800-CALL-ICPC (0800-2255-4272)
Signed
Rasheedat A. Okoduwa, mni
Spokesperson/Commissioner, Public Enlightenment Department
BUILDING AND PROMOTING INTEGRITY IN BUSINESS MANAGEMENT ORGANISATIONS (BMOs) AND PROFESSIONAL ASSOCIATIONS (PAs)
The Independent Corrupt Practices and Other Related Offences Commission (ICPC) is organising a one day stakeholders' forum for Business Management Organisations (BMOs) and Professional Associations (PAs) with the view to incorporating anti-corruption values into their codes of professional practice and also discussing other areas of collaboration.
The forum is in line with the Commission's mandate of preventing corruption as provided in section 6(b-d) of the Corrupt Practices and Other Related Offences Act 2000.  Details are as follows:
Date: 24th February, 2016
Time: 9am
Venue: ICPC Auditorium, Abuja
The under listed BMOs and PAs are invited to send 5 members each who should include senior/key officials as well as a legal practitioner to attend the forum:
Town Planners Registration Council of Nigeria (TOPREC)
Nigeria Institute of Town Planners (NITP)
Council of Registered Builders of Nigeria (CORBON)
Nigerian Institute of Builders (NIOB)
Estate Surveyors and Valuers Registration Board of Nigeria (ESVARBON)
Institute of Estate Surveyors and Valuers (NIESV)
Institute of Chartered Economists of Nigeria (ICEN)
Institute of Chartered Secretaries and Administrators of Nigeria (ICSAN)
Nigerian Institute of Management (NIM)
Nigerian Publishers Association (NPA)
Institute of Fraud Examiners of Nigeria (IFE)
Nigerian Institute of Public Relations
For further enquires, please contact the Commission through the following telephone numbers: 08056855258 and 08187207271
Attendance is strictly by invitation please
Education Department ICPC Headquarters, Abuja.
NATIONAL ANTI-CORRUPTION VOLUNTEER CORP (NAVC)
The ICPC wishes to remind the general public that following the recent rebranding of the NAVC, all structures in all States of the country had been dissolved. All applicants including former members and officials are to fill new enrolment forms for consideration.
Meanwhile, enrolment of citizens into the corps is ongoing, interested persons can download the enrolment form together with the referees form through the link (join NAVC) at the bottom of this page.The enrolment form is FREE. Please report any person selling the form to the nearest ICPC Office.
New officials for Local Government and State Offices will be elected in conformity with the new operational guidelines after the vetting of prospective members.  Other Training manuals can also be downloaded from the website.
Prospective volunteers should note that the NAVC will NEVER evolve into Law Enforcement Agency as being peddled by some persons out to exploit citizens.
Uniforms:
In view of the abuse of uniforms, it should be noted that no uniforms will be used by the re-branded NAVC.  Accordingly, the use of the old uniforms, T-Shirts etc is hereby prohibited.
For further enquiries, please contact the National Coordinator NAVC through the following channel – navc@icpc.gov.ng
Signed
Management