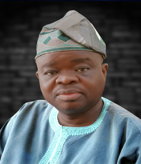 Professor Olatunde Babawale, Provost, ACAN
The Anti-Corruption Academy of Nigeria (ACAN) is the research and training arm of the Independent Corrupt Practices and Other Related Offences Commission (ICPC). The Academy was established to facilitate the effective implementation of the Commission's functions as encapsulated in Section 6 (a – f) of the Corrupt Practices and Other Related Offences Act 2000, which empowers the Commission to carry out enforcement, prevention and enlightenment functions.
In line with the foregoing, the Academy equips ICPC staff with necessary skills and knowledge that would enable them to perform at required levels. The Academy is also designed to provide training for public and private sector workers on accountability, transparency, integrity, ethics and issues relating to corrupt practices.
The establishment of the Academy is based on the Commission's determination to fulfil its enlightenment and education functions in a systematic and sustainable manner, to achieve long term impact in the war against corruption. It is also partly in fulfilment of Nigeria's commitment to regional and global resolutions such as the African Union Convention on Preventing and Combatting Corruption (AUCPACC) and the United Nations Convention Against Corruption (UNCAC) respectively.
ACAN is located in a serene environment in Keffi, Nasarawa State, 46 Kilometres from Abuja city centre. The academy, which lies adjacent to the National Youth Service Corps Orientation Camp, Keffi, commenced activities in the current location in November 2014 with Prof. Sola Akinrinade as its pioneer Provost. He maintained this position until December 2020, and the current Provost, Prof. Tunde Babawale, assumed office in January 2021.
The Academy's philosophy is that corruption and related crimes can be controlled through a system of robust training and re-training, geared towards sound policy formulation, operational efficiency, good management culture, behaviour, and communication skills that are required to drive a corruption-free society.
As part of its key objectives, the Academy seeks to provide world-class law enforcement and anti-corruption education, bridge the gap between knowledge and practice through academic research and professional policy analysis; serve as a platform for dialogue, networking and cooperation in crimes management and control; and become a think-tank for policy formulation and implementation in the law enforcement and anti-corruption sector.
ACAN is being developed as a last-stop institution for training of high-calibre anti-corruption professionals such as compliance officers, investigators, administrators, and general integrity practitioners by offering programmes at postgraduate levels.
In the delivery of these training programmes, highly qualified and skilful resource persons are drawn from the Academy, ICPC Headquarters, the academia, and from professionals in various fields.
The Academy, in view of realities of an ICT age, has developed an online platform for e-delivery of the contents of courses to participants. This is expected to provide an effective means of communication for the teaching and learning process. Apart from its 250-capacity digital classroom, all the learning centres of the Academy are equipped with e-learning facilities, including full multimedia learning systems.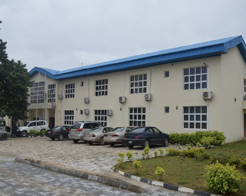 ACAN Admin. block
Besides its research and training functions, the Academy organises annual Anti-Corruption Lectures, hosts thematic Anti-Corruption Conferences and bi-annual Policy Dialogues. The Academy also produces the Nigerian Journal of Anti-Corruption Studies.
ACAN is progressively evolving into a model anti-corruption resource development centre in the African region, which was duly recognised by President Muhammadu Buhari, at the Opening Session of the Corruption Risk Assessment Training for Heads of Anti-Corruption Agencies in the African Union on 10 December, 2018 at the State House Banquet Hall, Abuja.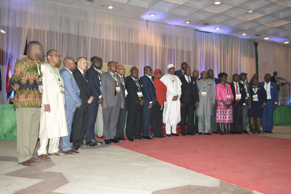 President Muhammadu Buhari with ICPC & ACAN Management and the international participants at the AU CRA training
The Academy is also strategic to the successful implementation of the National Anti-Corruption Strategy (NACS), 2017 – 2021, particularly in developing capacity at the national and sub-national levels and relating to the activities outlined for ICPC in the NACS implementation plan.
Since the new vision for the Academy was set in late 2014, ACAN has built capacity in anti-corruption and deployed knowledge driven research in several interventionist activities, some of which are:
Training/Capacity Building Programmes for ICPC staff: Trainings on law enforcement, corruption prevention and anti-corruption education, including refresher courses are regularly being organised for Commission's staff. 26 staff trainings had been conducted as at March 2020 with 1,437 participants in attendance.
Open Training Programmes: The Academy conducts open training programmes on topical issues bordering on ethics, integrity, transparency, accountability and anti-corruption. These trainings are aimed at building the institutional capacity of organizations to develop responses to corruption. ACAN's flagship Leadership programmes – Anti-Corruption Leadership Course and Senior Executive Course in Organisational Integrity Management that commenced since 2016 are testaments to the Academy's commitment to developing a crop of leaders to champion the anti-corruption war in their respective agencies. So far, 1,933 participants have been trained.
Bespoke Programmes: Tailored capacity building programmes give room for organisation-specific trainings, affording them the opportunity to develop specific responses to their anti-corruption and related needs. Thirteen (13) agencies have so far benefited from the bespoke programme with 1,638 participants trained.
Trainings for Anti-Corruption and Transparency Units (ACTUs): ACTUs are established to serve as the eyes and ears of the ICPC in MDAs. They assist their respective organisations to tackle corruption internally and to entrench institutional integrity. To effectively carry out their assignments, trainings are organized twice yearly for ACTU members. Ten training programmes have been organised for ACTUs from 2015 to date with an attendance of 1,789 participants.
Certificate Programmes: The Academy's certificate programmes are designed to build the capacity of anti-corruption practitioners and others to better understand the intricacies of corruption and the array of responses to tackling the menace. ACAN has held three editions of the Certificate Course in Corruption Prevention – 2018, 2019 and 2021 with 97 participants. Certificate courses in Ethics and Compliance, Corruption Investigation and Intelligence have also commenced.
State Anti-Corruption Summits: To take the fight against corruption down to the sub-national levels – a key outcome required by the National Anti-Corruption Strategy (NACS), the Academy has convened State Anti-Corruption Summits in eight states namely, Bauchi, Plateau, Abia, Akwa Ibom, Delta, Bayelsa, Ebonyi and Cross River, in collaboration with an NGO, Foundation for Transparency and Accountability. A total of 2,847 participants were at these summits.
Anti-Corruption, Ethics and Integrity Training in Local Government Administration: The local governments are directly responsible for bringing government's presence and initiatives to the local communities. Since corruption cases are manifest at this level, Integrity training programmes are conducted for Chairmen and Secretaries of Local Government Service Commissions as well as the principal officers of local government councils to enhance transparency and accountability in local government administration. 1,970 principal officers in Abia, Ebonyi, Bauchi, Yobe, Akwa Ibom, Enugu as well as the 6 Area councils in the Federal Capital Territory have been trained by the Academy.
Specialised Programmes and Sponsored Programmes: Sponsored/funded Programmes carried out in this category include a UNDP-sponsored training on Grant and Project Management for CSOs; UNDP-sponsored Corruption Risk Assessment training for staff of Anti-Corruption Agencies and Civil Society Organisations; and UNODC-sponsored Corruption Risk Assessment of Nigeria's e-Governance System. Specialised trainings executed are Gender Sensitive Early Warning and Early Response (EWER) and Peace Architecture, and EWER Implementation and Strategy Planning for Plateau State Peacebuilding Agency; Adamawa and Gombe States Commands of the Nigerian Security and Civil Defence Corps, and State Emergency Management Authorities, SEMA, of Adamawa and Gombe States. A total of 318 participants have been trained in this category.
International Trainings: Besides the progressive value-addition of ACAN to the public and private sector in Nigeria, the Academy had a unique opportunity of training the leadership of Anti-Corruption Agencies in the African Union (AU) on corruption prevention, using the Corruption Risk Assessment (CRA) methodology for improved systems and processes of their MDAs. With support from the Office of the Secretary to the Government of the Federation, the training had the honour of been declared open by the President of Nigeria, Muhammadu Buhari, and was attended by 39 participants from 26 African countries.
The Academy also facilitated an ECOWAS-sponsored training for the Network of Anti-Corruption Institutions in West Africa (NACIWA) with 30 participants in attendance.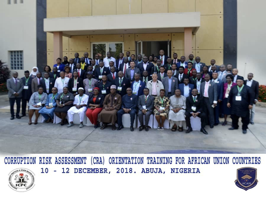 The number of participants so far trained at ACAN's programmes since its establishment stands at 12,000.
Mark Faison is Chief Superintendent in the Anti-Corruption Academy of Nigeria (ACAN), the training arm of the Independent Corrupt Practices and Other Related Offences Commission (ICPC)