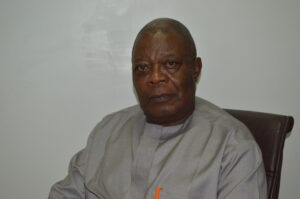 Okolo Titus Maduabuchi, CP Rtd
PROFILE
Date of Birth: 29th December 1951
Local Government Area: Awgu
State of Origin: Enugu State
EDUCATION
Enugu State University Science and Technology (ESUT)
BSc. Public Administration 1999
St. John's Catholic Seminary, Nsukka
West African School Certificate (WASC) 1974
St. Anthony's Catholic Mission School, Ituku
First School leaving Certificate (FSLC) 1964
COURSES ATTENDED
Counter Revolutionary Course Nigeria Military School, Jaji, Kaduna
Senior Detective Course Police Command and Staff College Jos
Senior Command Course Police Command and Staff College Jos
Intermediate Command Course Police Command and Staff College Jos
Junior Detective Course Detective College, Force CID Annex, Kaduna
Junior Command Course Police Command and Staff College Jos
PROMOTION HISTORY, POSTINGS AND ASSIGNMENTS
COMMISSIONER OF POLICE 2010
Commissioner of Police in charge of training and research, Force Headquarters, Abuja
DEPUTY COMMISIONER OF POLICE 2005
DC 2nd in Command (2iC), Enugu State Command
DC CID – FCT Command, Abuja
DC Operations – Zone 7 Headquarters, Abuja
DC Operations – Zone 3 Headquarters, Yola, Adamawa State
ASSISTANT COMMISSIONER OF POLICE 2000
Admin Officer – Yobe State Command
Area Commander – Ughelli Delta State
CHIEF SUPERINTENDENT OF POLICE 1996
DPO – Igboeze South, Enugu
DPO – Uwani, Enugu
DPO – Abakpa, Enugu Urban
DPO – New Heaven, Enugu
2nd in Command (2iC) – State CID, Police Headquarters, Enugu
Admin Officer – Police Headquarters, Enugu
DPO – Ogbaru, Izzi Division, Old Anambra State
Admin Officer – Zone 5 Headquarters, Benin City
SUPERINTENDENT OF POLICE 1992
Force CID – Anti-Corruption Squad Section, Lagos
DEPUTY SUPERINTENDENT OF POLICE 1985
Divisional Crime Officer – Robochi Division, Abaji, Abuja
Patrol Officer – Zone 4 Headquarters, Makurdi, Benue State
ASSISTANT SUPERINTENDENT OF POLICE 1982
Traffic Officer – GRA Division, Maiduguri, Borno State
CADET INSPECTOR 1977
Station Officer – Agai Division, Niger State
BRIEF WORK ACHIEVEMENT
After secondary Education, he enrolled into the Nigeria police force as a Cadet Inspector and rose progressively to the rank of Commissioner of Police in December 2010.Throughout the entire gamut of 35 years service in Nigeria police force, he acquired a lot of modern and contemporary security experience in the following detective assignment:

A member of the police detective sent from force CID, Alagbon Close, Lagos to Hunt, Investigate and successfully prosecuted the notorious Anini gang that ravaged the then Bendel Sate.
The same team investigated the fire incident that gutted the telecommunication house (NET Building) Lagos.
In 1982 – 1983, he took part in the operations that quelled the Maiduguri / Bulunkutu Maitsine religious uprising.
The member of the police team that investigated the election violence in Ondo State Gubernatorial election between Chief Michael Ajashin and Akin Omoboriowo in the early 1980's.
He took part in the management of the students Anti-SAP riot of 1989, Benin City
As the area commander, he managed the student crisis that rocked Delta State University, Abraka in 2003. The crisis ended without any casualty or judicial commission of inquiry into the crisis and many others.

He was appointed Board Member, ICPC, on 4th February 2019 by President Muhammadu Buhari, GCFR.