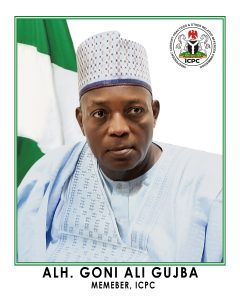 Profile:
GONI ALI GUJBA
Goni Ali Gujba was born 27th April 1961 in Gujba, Gujba Local Government Area of Yobe State. He had his primary school at Gujba Central Primary School from 1967-1974. He also attended:
Arabic Teacher's College, Maiduguri from 1976-1981;
Borno College of Education from 1983-1986 and 
University of Maiduguri from where he obtained a B.A. Hons Degree in 1991. 
He obtained a Masters in Public Administration (MPA) in the same University from 1995-1996. He attended several courses within and outside the country and held the following positions during his thirty-five (35) years of service;
Secretary to Local Govt Councils in Geidam, Gujba, Damaturu, Fika Jakusko, Nangere and Yunusari all in Yobe State.
Principal Secretary to H.E. Govenor Bukar Abba Ibrahim from 2003-2007.
Permanent Secretary in 2016 and retired in April 2021.
He is married to two wives and has 16 children. 
Appointed as Board Member, ICPC by President Muhammadu Buhari GCFR, on 13th April 2022