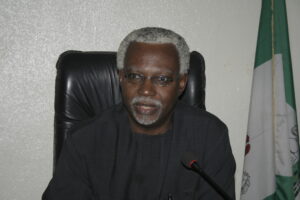 Mr. Ekpo Nta is an indigene of Ndukpoise, Nsit Ubium Local Government Area of Akwa Ibom State. He was born on 12th October 1952. He started his Primary education at Zaria, Kaduna State in 1958 and finally finished at St. Anthony`s Primary School in Ibadan, Oyo State in 1964.
In September 1964, he commenced his Secondary School at Loyola College, Ibadan and completed at Hope Waddel Training Institute, Calabar in 1971.
Between 1972 and 1980, he attended the University of Ibadan where he underwent preliminary Science Programme in Chemistry, Physics and Botany, and later obtained B.Sc. (Hons) Political Science majoring in International Relations in 1977 and M.Sc Political Science majoring in Public Policy & Statistics in 1980. He also obtained LL.B. (Hons) Civil Law majoring in Public International Institutions at the University of Calabar between 1983 and 1987, and afterwards attended the Nigerian Law School Lagos between 1987 and 1988.
Mr. Nta started his working experience with Nigerian Television Authority Kano as a Youth Corp Member in 1977. He was appointed Assistant Secretary by the Cross River State Water Board where he served and rose up to Acting Secretary of the Board between 1978 and 1985. He was appointed Senior Assistant Registrar of the University of Cross River now referred to as University of Uyo, in 1986 where he served until 1987 before moving to the Akwa Ibom State Water Corporation, Uyo as Head, Personnel/Manpower Development & Training.
Mr. Nta was a Counsel with the Ministry of Justice Uyo and Deputy Liason Officer/ Lawyer at the Office of the Akwa Ibom State Military Governor (Lagos State Liaison Office) in 1989. In 1990 he was appointed Chief Administrative Officer of the Akwa Ibom Agricultural Development Project, Uyo. From March 1993 to June 2001 he worked with the Oil Mineral Producing Areas Development Commission (OMPADEC) now referred to as Niger Delta Development Commission NDDC as Director of Administration and Human Resource Development.
He was sworn in as Chairman ICPC on 17th October 2012 by President Goodluck Jonathan GCFR.
On 17th December 2015, Mr. Nta was elected as a member of Board of Governors of the International Anti-Corruption Academy (IACA) in Laxenburg, Austria.
Mr. Nta has attended many Professional Courses within and outside Nigeria and is also a member of Professional bodies like the Nigerian Bar Association (NBA), Nigerian Association for Public Administration and Management and Nigerian Industrial Relation Association. He has travelled widely and has a sound knowledge of Information and Communication Technology.