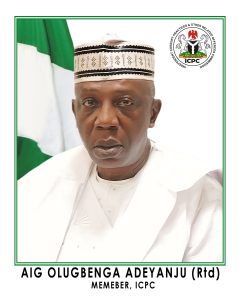 Mr. Olugbenga Adeyanju (AIG rtd) fdc, was born on the 20th of July 1962 in Ibadan, Oyo State and hails from Ekiti State. He attended I.C.C Primary School, Ibadan. He had his secondary education at Government College, Ibadan and proceeded to study History at University of Ilorin where he graduated with honours in 1983. 
For his National Youth Service, AIG Adeyanju served at Women's Teachers College Numan, in old Gongola State. He thereafter enlisted in the Nigeria Police, as a Cadet Assistant Superintendent in 1987. 
Mr. Adeyanju attended several courses in Nigeria and abroad. Some of these courses include: 
Senior Command Course (Police Staff College, Jos (2009);
Senior Strategic Course (National Defence College, Abuja. (2016- 2017). 
In 2017, he also took a strategic tour of Africa, visiting Rwanda, Uganda and Togo, to engage with other senior police and military officers from around the world. 
During his time in the Police, he served as a Principal Staff Officer to the Inspector General of Police (2012). He was at various times Commissioner of Police (Force C.I.D. Abuja) and also Commissioner of Police, Ondo and Adamawa State commands. 
Wielding vast experience in state security, general police service operations and criminal investigation, Adeyanju, a fellow of the National Defence College, retired as an Assistant Inspector General of Police, Zone 3 Headquarters, Yola, having served the force diligently with 35 years of dedicated service. 
He is married with three children.
Appointed as Board Member, ICPC by President Muhammadu Buhari GCFR, on 13th April 2022