Twenty years ago, the Independent Corrupt Practices and Other Related Offences Commission (ICPC) was born. Prior to setting up the Commission, corruption had given Nigeria and Nigerians a terribly bad image in the eyes of the international community. It therefore became imperative that something drastic had to be done to arrest the rot. This informed the establishment of ICPC to tackle corruption head-on.

Soon after its creation, the National Assembly enacted the Corrupt Practices and Other Related Offences Act, 2003 to repeal the Corrupt Practices and Other Related Offences Act, 2000, which established ICPC. However, the process was truncated by the judgement of the Federal High Court where it held that the steps taken by the lawmakers in passing the Bill were in violation of a court Order, and by the refusal of President Olusegun Obasanjo to assent to the bill.
From its establishment, the Commission has had four Governing Boards and chairmen. The pioneer Board was headed by Honourable Justice Mustapha Akanbi from 2000 – 2005, the second Board was led by Honourable Justice Emmanuel Olayinka Ayoola from 2000 – 2005, the third was by Mr. Ekpo Nta from 2012 – 2017; while the 4th Board, inaugurated in 2019, is headed by Prof. Bolaji Owasanoye.
The formation of ICPC brought a fresh and decisive perspective to the fight against corruption in the form of a holistic approach encompassing Enforcement, Prevention, Education and Public Mobilisation. While enforcement is directed at sanctioning corrupt individuals, prevention is for overall system change along with an enduring re-orientation of the citizenry.
Within its three-fold mandate, the Commission has since its establishment recorded a number of achievements. It has received cumulatively 19,381 petitions, successfully investigated over 5,000 of the petitions and prosecuted almost 1,000 and secured convictions in about 20% of the cases over the years.
On assets recovery, movable and immovable assets worth billions of naira have been recovered. It has also recovered assets in terms of cash, houses, plots of land and vehicles, wrongly appropriated by public officers worth N125 billion, and secured 81 convictions in courts.
ICPC is currently prosecuting some category of high profile individuals; they include a former Governor, a retired Court of Appeal judge, Director-General of a government agency, among others.
The Commission has conducted System Study and Reviews on 47 Ministries, Departments and Agencies (MDAs) of government, and Corruption Risk Assessments (CRAs) in different key sectors of the economy including transport, education, health and the e-government system.
In 2019, System Study and Review of Personnel Cost and the Capital Expenditure of 201 MDAs was conducted. As a result, ICPC restrained a total of N41.98b from misapplication.
In continuation of the review exercise, the Commission extended the review to Personnel Cost of 51 government hospitals and medical centres. The sum of N228.2m misappropriated by public servants in some of the health facilities is currently under investigation.
The Commission is currently focusing on activities that (1) strengthen government's desire to eradicate corruption in revenue and expenditure (2) take development closer to the people by diminishing poverty, and (3) ensure value for money in the implementation of publicly funded projects, escalate asset recovery, and reduce retail corruption as the everyday experience of ordinary people.
One key initiative of ICPC in ensuring that government gets value in the execution of public projects, and improved delivery of social welfare services to Nigerians is the Constituency/Executive Projects Tracking exercise.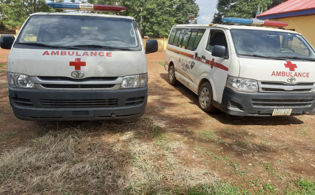 Ambulances recovered during projects tracking exercise in Edo State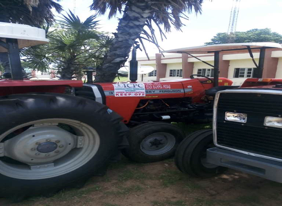 Recovered Tractors in Bauchi State
Successes of the exercise included the recoveries of tractors, ambulances, dialysis machines and other hospital equipment from sponsors of the projects. The achievements of the exercise also included the recovery of huge sums of money, hundreds of tricycles, grinding machines, tractors, ambulances and other empowerment items from the project sponsors.
In addition, the exercise forced over 300 contractors who hitherto had abandoned projects to return to site to complete them.
More so, ICPC is the secretariat for the inter-agency committee on Illicit Financial Flows (IFFs) in Nigeria through which measures to stem IFFs are frequently discussed, and has also established Tax Fraud and Illicit Financial Flows Group in the Commission to prevent and prosecute offenders of tax evasion, and recover proceeds from such crimes as part of its preventive initiative.
On values re-orientation, ICPC, in Collaboration with the Nigerian Educational Research and Development Council (NERDC) has developed the National Values Curriculum (NVC), which infused anti-corruption values into subjects at Basic 1-9, Post Basic (Senior Secondary School 1-3) and Colleges of Education Minimum Standards. It also established Anti-corruption Clubs and Vanguards in secondary schools and tertiary institutions across the country in a bid to provide a moral compass for students and young adults.
Troubled by dwindling moral values among Nigerians, ICPC, in collaboration with OSGF and NOA has produced the National Ethics and Integrity Policy to restore the nation's traditional core values of honesty, transparency, accountability and respect for the rule of law. The policy was adopted by the Federal Executive Council in August 2020, and launched by President Muhammadu Buhari in September of the same year.
ICPC is also collaborating with Office of the Auditor-General of the Federation, Federal Inland Revenue Service (FIRS) National Social Investment Office (NSIO) Federal Road Safety Commission (FRSC), Asset Management Corporation of Nigeria (AMCON), Nigerian Television Authority (NTA), Presidential Enabling Business Environment Council (PEBEC) to mention but a few, in tackling corruption.
Some ongoing initiatives under these collaborations include the tracking of Conditional Cash Transfer, Home Grown School Feeding Programmes of NSIO, and regular joint enforcement actions with FRSC and DSS to reduce retail corruption on the roads.
Furthermore, ICPC has established Anti-Corruption and Transparency Units (ACTUs) in 449 Ministries, Departments and Agencies (MDAs) to complement and strengthen the efforts of the Commission in preventing corruption. One key benefit of ACTUs is increased capacity to efficiently assess corruption vulnerabilities in the MDAs.
ICPC has also engaged citizens at grassroots level in the budgetary process in Local Government Areas, as well as established the Anti-corruption Academy of Nigeria (ACAN). In 2019, the regional body, ECOWAS, adopted the Academy as its centre of excellence for anti-corruption training.
The ICPC, under the leadership of Prof Owasanoye, is indeed, taking steps to improve on the standards and direction for the Commission's greater accomplishments in its fight against corruption. ICPC has set itself apart with many innovations, which continue to have positive impact on the anti-corruption campaign. The Commission's robust expertise and strategies in discharging its mandate provide solid evidence that the effort to reduce corruption in the Nigerian society is right on course. With strong political will from the government at all levels, ICPC assures Nigerians of its commitment to an unrelenting pursuit of its mandate.
Femi Lionel Gold is Chief Superintendent, Public Enlightenment and Education Department of the Independent Corrupt Practices and Other Related Offences Commission (ICPC)