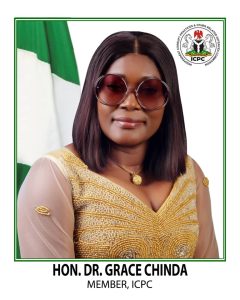 Dr. Grace Chinda
PROFILE:
PERSONAL DATA
Date of Birth: 17th April, 1974
State of Origin: Rivers State
ACADEMIC QUALIFICATIONS
Member West African College of Physician 2016
Master in Public Health 2012
Bachelor of Medicine, Bachelor of Surgery 2007
Senior Secondary School Certificate 1991
First School Leaving Certificate 1985
WORKING EXPERIENCE
Director General; Niger Delta Bishops 2013 – 2018
Developing and implementing strategies aiming to promote the organization's mission and objectives
Creating programs for the attainment of goals and objectives set by the board of directors
Manage the day to day activities of the forum
Lead the implementation of all institutional procurement ahead of time to ensure that the services rendered are effective and forum focused;
Director of protocol; Global Peace and Relief Initiative 2007 – 2018
Ensured that all applicable protocols were adhered to for various visits and events.
Coordinated with appropriate agencies for visits by state and national officials.
Conducted research to ensure that proper customs were followed for foreign visits.
Planned and coordinated highly classified operations.
Prepared coordinated and implemented security plans.
Developed emergency management training programs.
Served as head of the crisis management team.
Medical Officer; Rivers State Ministry of Health 2011
Recruit and supervise interns for river state health sector.
Monitoring and evaluation of health facility in Rivers state
Streamline unit activities such as screening of interns, inspection of health facilities for standards and issuance of operational license
House Officer; Central Hospital, Benin 2008 – 2009
Provide clinical consultation and medical procedures and medications to patients.
Treat minor emergency cases as they come into the emergency room.
Collaborate with head emergency nurse to develop more effective emergency room procedures.
ASSOCIATIONS
Member; Association of Public Health Practitioners of Nigeria (APHPN)
Member; Nigerian Medical Association (NMA)
Member; National Association of Government General Medical and Dental Practitioner (NAGGMDP)
Appointed as Board Member, ICPC by President Muhammadu Buhari on 4th February 2019, and reappointed for a second term on 15th March 2023