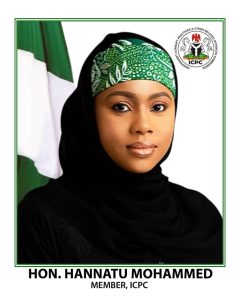 Mrs. Hannatu Mohammed
PROFILE:
PERSONAL DATA
Date of Birth: March 20th, 1992
State of Origin: Jigawa State
Local Gov't Area: Dutse
Education
Essence International School, Kaduna. 1995-2001
El-Amin International School, Abuja. 2001-2002
El-Amin International School, Minna. 2002-2008
(Secondary School Leaving Certificate SSCE, West African Examinations Council WAEC)
Ahmadu Bello University, Zaria. 2009-2014
Bachelor Of Pharmacy (B.Pharm) Degree.
Ahmadu Bello University Distance Learning Centre 2018- Date
Masters in Business Administration, MBA (Human Resource) (In View)
WORKING EXPERIENCE
Appointed as Board Member, ICPC by President Muhammadu Buhari on 4th February 2019, and reappointed for a second term on 15th March 2023

El-Amin International School Abuja 2008-2009
Teaching internship.
H-Medix Pharmacy and Stores Adetokumbo Ademola Crescent, Abuja. 2012
Industrial Attachment (I.T) SIWES Program.
National Agency For Food And Drug Administration And Control (NAFDAC) 2014-2015
Pharmacy Internship Program at the pharmacovigilance and post-marketing surveillance unit, ports inspection directorate, technical service directorate as well as the drug evaluation and research directorates.
Independent National Electoral Commission Clinic (INEC Clinic) 2015-2016
National Youth Service Corp as a pharmacist at INEC clinic
Orphans and women support Foundation (OWSF) 2016- Date
Volunteer Pharmacist
Green Forest Pharmacy 2017- 2018
Superintendent Pharmacist in charge of all pharmacy activities including procurement from the pharmaceutical market and company representatives, inventory taking and staff management.
Appointed as Board Member, ICPC by President Muhammadu Buhari on 4th February 2019, and reappointed for a second term on 15th March 2023