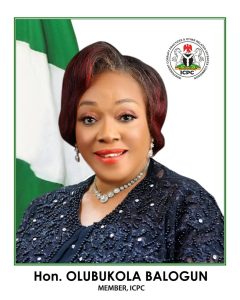 Mrs. Olubukola Balogun
PROFILE
PERSONAL DATA
Date of Birth: 24th July, 1952
State of Origin: Lagos State (Oshodi Isolo Local Govt.)
Educational Qualifications: LL.M, LL.B, B.L, Dip. Th.
Schools Attended: Methodist Primary School, Oshodi
Girls Secondary Grammar School, Gbagada, Lagos
Egba High School, (Comprehensive) Abeokuta, Ogun State
United Christian Secretarial College, Apapa, Lagos.
Lagos State Staff Training School, Eko Akete, Lagos.
University of Lagos, Akoka, Lagos.
Nigerian Law School, Lagos.
Nigerian Institute of Advanced Legal Studies, Lagos.
Methodist Theological Seminary.
Work Experience:
Employed as Clerical Officer in the Service of Lagos State Government on 12th March, 1973.
Confidential Secretary Grade III, 1976 – 1978
Confidential Secretary Grade II, 1979 – 1982
Confidential Secretary Grade I, 1983 – 1986
Personal Secretary Grade II, 1987 – 1990
Asst. Chief Secretarial Asst, 1993.
Transferred to Ministry of Justice
Directorate of Legislative Drafting 1993 – May 2007
Position Held in Ministry of Justice
Legal Officer1993
Senior Legal Officer1995
Principal State Counsel1998
Assistant Chief State Counsel2001
Chief State Counsel 2004
Deputy Director 2006
Job Functions:
Drafting of Executive Bills
Preparations of Council Memoranda which the Attorney-General and Commissioner for Justice used in presenting the draft Legislations for consideration and approval of the State Executive Council.
Issuing Advisories on Chieftaincy Matters in Lagos State
Issuing Legal Opinions
Representing Government in Courts.
AD-HOC DUTIES
Secretary to the Prerogative of Mercy (2004-2005)
Secretary to the Committee on
Drafting of the Lagos State High Court (Civil Procedure) Rules 2004.
Secretary to the Senior Management Meeting of the Ministry of Justice.
1999-2007.
Special Assignment:
Government Draftsman on the drafting of:
Lagos State High Court Civil Procedure Rules 2004
Lagos State Criminal Justice Administration Law
Lagos State Fast Track Court Rules
Unpublished Works:
Corruption in Nigeria (1991)
Juvenile Justice Administration in Nigeria: Case Study Lagos State Juvenile Court (1999).
Seminars Attended:
1st – 5th Summits of Stakeholders on the Administration of Justice in Lagos State.
●Seminar on Drafting of Bills held in South African 2001.
●Summit on Financing Private Public Participation of Government Contract – London.
●Negotiating and Drafting of International Commercial & Investment Agreement.
●Sensitization of Key Stakeholders on the Child Right's Act 2005.
●Case Management Training Workshop.
●Succession Planning Workshop for top Management Officers in the Lagos State Civil Service.
● Nigerian Bar Association Conferences.
●International Bar Conferences in Singapore, ●International Bar Conference in Argentina.
●International Bar Conference in Madrid, Spain.
Special Commendation:
Certificate of Commendation for outstanding contribution to the Revision of Laws of Lagos State of Nigeria by the Lagos State Government 1994.
Special Commendation by the Lagos State Judiciary – 2004.
Membership:
Nigerian Bar Association.
International Bar Association.
Appointment:
Appointed Permanent Secretary in Lagos State Civil Service on 23rd May, 2007.
Posting: Lagos State Judicial Service Commission
Retirement: 12th March, 2008 after putting 35 years of meritorious Service to Lagos State Government Civil Service.
Subsequent Appointment: Executive Secretary, Judicial Service Commission 13th March, 2008 – March, 2013.
Appointed as Board Member, ICPC by President Muhammadu Buhari on 4th February 2019, and reappointed for a second term on 15th March 2023