The African Development Bank (AfDB) and Commonwealth Africa Anti-Corruption Centre (CAACC) have resolved to partner with the Independent Corrupt Practices and Other Related Offences Commission (ICPC), and other anti-corruption agencies to tackle the communications challenges faced by the agencies by strengthening their institutional capacity.
The resolution was reached during a courtesy visit to the ICPC by representatives of the Commonwealth Africa Anti-Corruption Centre (CAACC) and the African Development Bank when they paid a courtesy visit to the Commission recently.
In his remarks during the visit, the Chairman of ICPC, Prof. Bolaji Owasanoye, SAN OFR reiterated that the fight against corruption was a continuous process that required the collaborative efforts of relevant agencies.
Owasanoye, who was represented by the Secretary to the Commission, Prof. Musa Usman Abubakar, went further to say that the activities and efforts of anti-corruption agencies sometimes appeared invisible, and so there was a need to use appropriate channels to communicate to avoid misinterpretation.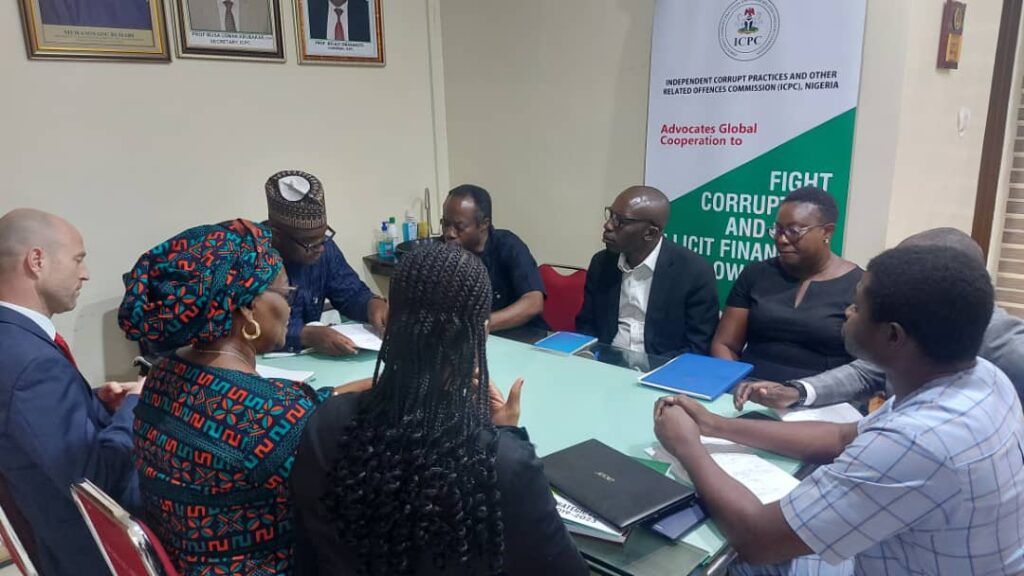 "Anti-Corruption agencies have contributed immensely to growth and development of Nigeria but the public is unaware due to inadequate communication" he said.
He also stated that the Commission was open to incorporating some of the recommendations subject to deliberation.
Speaking earlier on behalf of the Committee, Mrs. Rasheedat Okoduwa, mni, MON, revealed that through research, it had been discovered although ACAs contribute immensely to growth and development of the economy, due to inadequate communication, their contributions are not always obvious.
The project of CAACC "Strategic Programming for Anti-Corruption Agencies" is to provide strategic support to anti-corruption agencies (ACAs) across Africa to enable them set their own targets, and tell their own story so that the impact of their activities can be better measured.
The project had a duration of 6 months starting from June 2022 and would include training for staff of ICPC and officials from other ACAs in 3 key stages: Mentorship, Practicals, and a Demonstration stage which would show that impact could be tracked as well as enable ACAs develop and implement strategic products that would be useful in solving problems peculiar to them.
Other areas of assistance include assessment of the current action plan, and alignment with the National Anti-Corruption action plan.