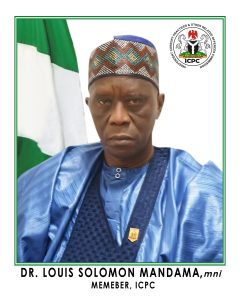 Dr. Louis Solomon Mandama, mni
PROFILE
Dr. Louis Solomon Mandama, mni was born on 18th April 1958 in Kaduna. He hails from Adamawa State, Nigeria. 
He attended the following schools and institutions: 
Hong Primary School (1964-1971)
Government Secondary School, Hong (1972-1976)
School of Basic Studies ABU, Zaria (1976/77)
Ahmadu Bello University Zaria (1978-1983) 
Federal University of Technology (now Modibbo Adama University) Yola (2007)
National Institute for Policy and Strategic Studies, Kuru Jos (2012)
He obtained the following qualifications: 
West African School Certificate (WASC) 
Interim Joint Matriculation Board (IJMB) 
Doctor of Veterinary Medicine (DVM) 
Masters in Public Administration (MPA) 
Member of the National Institute (mni)
Advanced Certificate in Computer Science (ACCS)  
Dr. Louis S. Mandama, mni did his National Youth Service Corps with the defunct National Livestock Production Company (NLPD) Kaduna (1983/84). 
He has attended several courses within and outside Nigeria. 
He held the following positions during his thirty-three years of service: 
Director, Extension Service (2001-2008)
Permanent Secretary (2008-2017) 
Head of Civil Service, Adamawa State (3/7/2017-24/10/2018) 
Special Adviser on Civil Service Matters (24/10/2018-28/5/2019).  
Member, National Governing Council Member AUDA-NEPAD/APRM from 21/6/2019 to date. 
He is married with four (4) children. 
His hobbies include basketball, music, driving and reading. 
He has visited the following countries especially for study tours: Guinea Conakry, Israel, South Africa, United Kingdom, Poland, Malaysia and Singapore, among others.
Appointed as Board Member, ICPC by President Muhammadu Buhari GCFR, on 13th April 2022